Fourth Birthday Party Ideas
Fourth Birthday Party Ideas
Four is the age of developing awareness of increased interaction outside the home. It is an age of play
where they absorb what's happening in their surroundings, and they imitate adults in their lives. During
this time, children learn to take initiative for their actions, developing a sense of responsibility for
themselves and their behaviour. At this stage, children have mastered handling tools and materials, it
would be great to see them create something that they can be proud of.
1. Little Chef Birthday Bash
Inspired by one of the exciting television shows for kids, Junior Master Chef, you can now use this talent-
loaded show as one of the cool birthday kids party themes. As for DIY party decoration ideas, you don't
have to break the bank to make this idea a reality. You can always borrow from your kitchen and engage
kids in preparing simple dishes that are yummy and healthy at the same time. To make it a truly hands-
on birthday party, the kids can even design their own cupcakes with different toppings.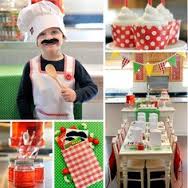 Source: http://www.blog.birdsparty.com/
2. Creative Magician Birthday Party
Here's one way to ignite your child's imagination. At this age, children are still fascinated by fairy tales
and the hope of magic. In your child's fourth birthday party, you can bring this to life by spreading magic
all throughout the event. For talented performers and entertainers, you can always give Fly By Fun a
call. Fly By Fun is Australia's well-loved children's entertainment company that can help you create
beautiful memories with your little guests. You don't have to go through all the trouble of learning
magic tricks in time for your kid's birthday, just give Fly By Fun a ring and see if there are any magicians
hanging around somewhere. You will then have a #magical time on your party. Abracadabra!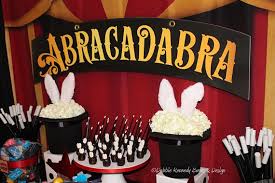 Source: www.catchmyparty.com
3. Mad Scientist Birthday Party
Perhaps it's the age when kids can be fascinated with what can go on in a Mad Scientist's birthday party.
It's all about the world of discovery, reaction, surprises and it sure can be exciting. The party
decorations for this theme are quite simple. You can prop up a chalkboard and scribble formulas on it,
and scatter test tube bottles all over the place, as well as a microscope, different apparatus, and for
electric worms, use the gummy, sour ones. As for the mad scientist, the wilder the hair with glitter, the
better!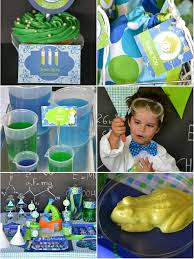 Source: http://www.blog.birdsparty.com/
4. Farm Animal Birthday
At this age, the rage is still all about animals and nature. You can keep things comfortable with plushies,
then wooden barns and toys can increase the level of interaction among little guests. You can also
distribute cake pops with heads of cows, chickens, pigs and sheep. These are the lovable animals that
your guests can relate with and in a corner you can leave baskets in a corner where they can pick up
plastic eggs in exchange for prizes to complete your kids party games for the day. To complete the
ambiance, animal sounds can be a part of the playlist as well as songs similar to Old McDonald.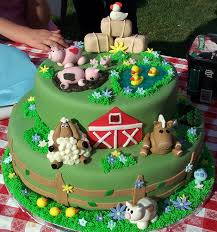 Source: http://bigfatcook.com/
5. Sesame Street Junket
Now your kids can hangout at the back alley of Sesame Street with characters like Elmo, Big Bird, the
Cookie Monster, Bert, Ernie and Grouch. Not only will this delight the children, but also parents who
grew up watching Sesame Street on television. Imagine what memories this can bring them. Don't forget
the cookies!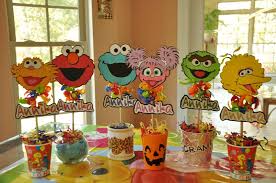 Source: www.catchmyparty.com
During these parties, it's all about the bonding moments and creating memories that you can preserve.
Your kid can enjoy the little games that you put together. You can always support your child's interest in
playing and sharing, and don't forget to document these beautiful memories and keep them for the days
to come.
This error message is only visible to WordPress admins
Error: Connected account for the user flybyfun does not have permission to use this feed type.
Try using the big blue button on the "Configure" tab to reconnect the account and update its permissions.
Get in touch so we can help you plan the perfect party or event!