Face Painting
Enquire Now
There's one thing that no social gathering or event where there are children is complete without and that's a face painter. Little ones just love to get their faces daubed with a design they've chosen and even manage to sit still while they're getting it done. Yes, sometimes miracles do occur and we put that down to the expertise of our face painters artists. Hire one of our fantastic face painting artists for your kid's birthday party, a community gathering, fun day or event you're organising and without a doubt, all the kids will be thrilled with the end results.
Face Painting
Humans have decorated their faces and bodies with different colours from caveman times for various reasons ranging from beautification to camouflage. The use of natural products like mud and berry juice has in modern times been replaced by the use of mass produced cosmetics and artwork has become more refined. Now rather than a few swirls or lines, face painting incorporates complex and intricate designs that take an artist to complete.
Our Professional Face Painters
Hire one of our face painters for your kid's party or for an event you're holding and you'll be getting an expert face painter with first class artistic talent. All of our face painters have been face painting for a long time and can create the most beautiful designs in just a few minutes. They're great with fidgety kids too and know how to turn on the charm to keep them amused during the sitting. You can be certain they're in good hands as we carry out background checks on all of our face painting artists and don't employ them unless they have valid working with children certification and public liability insurance.
Face Painting For Parties & Events
Our face painters usually attend a party or event for between one to three hours. If there are going to be lots of kiddies you may want to consider hiring two or more face painting artists to avoid any child missing out and getting disappointed. If you're not sure about the requirements for your particular event, get in touch and we'll be more than happy to advise you. Our face painters bring all their own equipment to whatever event they're attending and can get set up ready to begin in a matter of minutes. That means you'll have happy and contented face painted kids right from the start which makes for a great time all round.
If you want to add some colour to your kid's party or the event you're hosting, enquire now about hiring Fly by Fun's face painters. They're too talented for words.
Enquire Now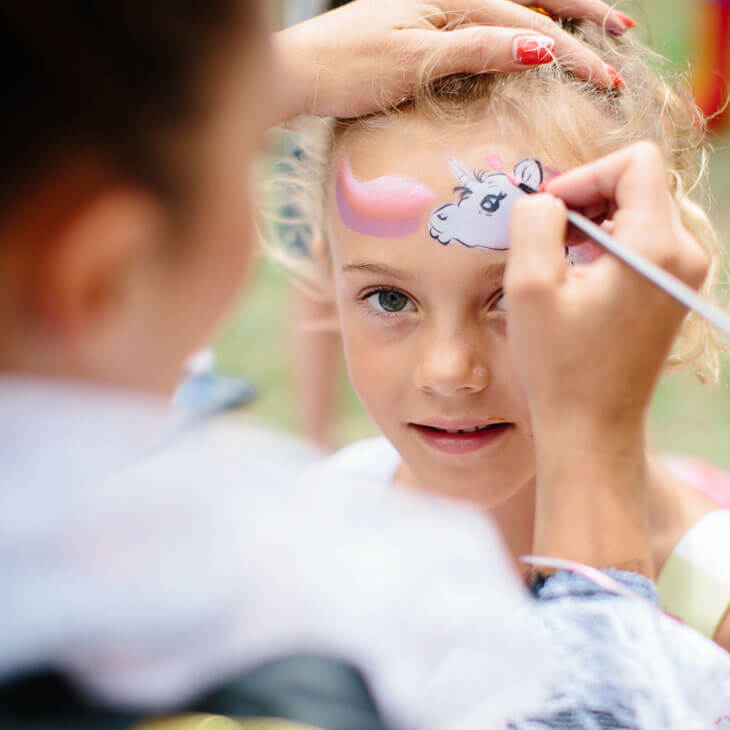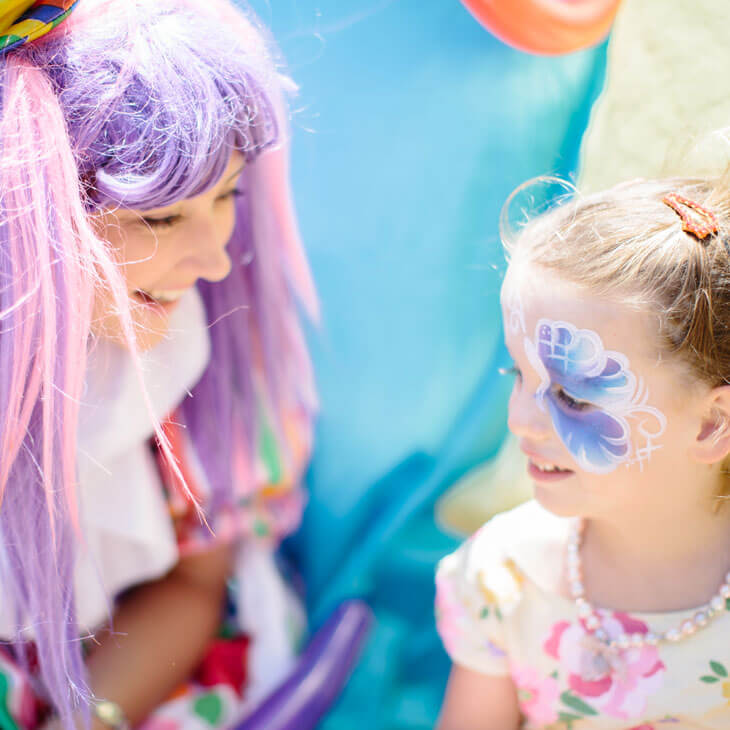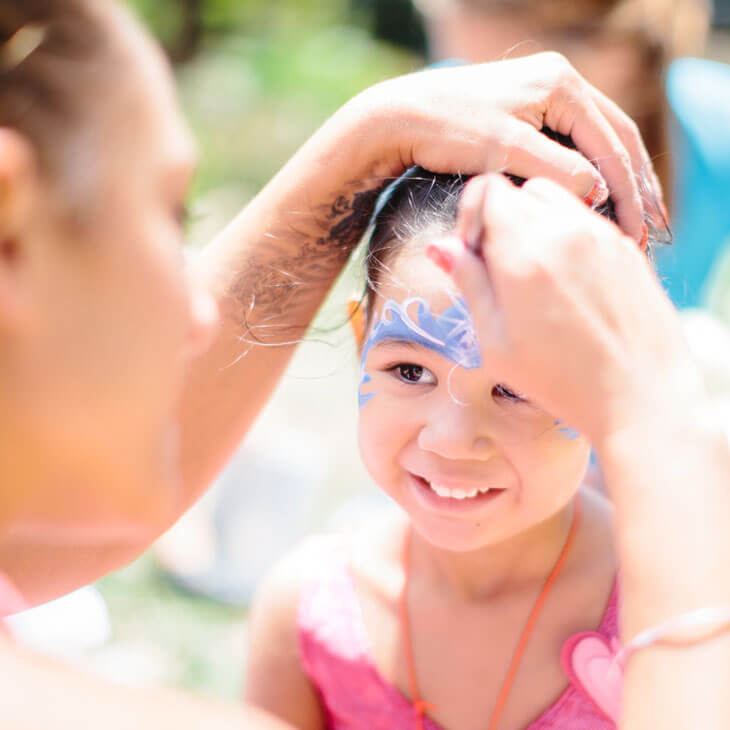 We've entertained at 25,000+ parties and events since 2008
"Fly By Fun has been our go to for all Kids Entertainment at Coogee Pavilion since opening our doors in 2014. Extremely professional and reliable, nothing is ever a problem. Amazing and innovative ideas for everything we do, always at the highest of standards. We know that everything they do is all taken care of and we can sit back and go about our business. I couldn't recommend Isobel and her team more highly."
Sara Jones, Coogee Pavilion
"Fly By Fun have provided all sorts of amazing entertainment and performers for our family events around Australia. I have never been disappointed, the performers are always to a high standard of professionalism and remarkably talented. They are great with the kids and families and bring so much magic and fun to our events. I would highly recommend them to anyone looking for their types of services."
Charlotte, Starlight Children's Foundation
"Pop Up Picnic have been working with the team at Fly By Fun for years now and find their service to be such a great touch to our picnic parties, they are definitely a supplier that we trust and enjoy working with all I need to do is email a brief and they will find a package to suit in a timely fashion, no request seems to be too difficult. I would recommend their service to any of my clients."
Kelly Robinson, Pop Up Picnic
"Taylor has been working with Fly By Fun for the past five years, Isobel has been my 'go to' when sourcing children's entertainment for our annual Christmas Parties. Fly By Fun continues to deliver the very best year on year and they always provide the best talent, ideas, innovations and concepts to bring your events to life. Isobel has personally attended each of our events to ensure they run seamlessly and I really admire her experience, professionalism and Chief of Fun status! I highly recommend Fly By Fun to anyone looking for the best in children's entertainment."
Jacklyn Wickham, Taylor Construction
"Fly by Fun have been awesome company to deal with. I absolutely loved everything they did for us! The kids had a great time and were blown away with the planning and activities! Would highly recommend them to anyone planning a party or event. The feedback from the attendees was extremely positive. Fly by fun was very creative, their enthusiasm and professionalism was outstanding!"
Lana Brosque, Volkswagen
"For the last 2 years I have used Fly by Fun for our Christmas Family Day. The whole process has always been so seamless, from the booking process to the team that arrive on the day. Wrangling 120 children can be no easy task but the team manage it with such ease and make it look like a walk in the park. I couldn't recommend Fly by Fun enough, they help add that special touch to our family event!"
Melissa Snowden, Quantium
"We continue to invite Fly By Fun back to host our Centre's kids themed workshops and events as we know that we can rely on Isobel and her amazing team each time to deliver exceptional entertainment. Kids and parents always leave with fantastic reviews and smiles on their faces. I highly recommend Fly By Fun for your children's entertainment needs!"
Ailing Huang, Fashion Spree Factory Outlet Centre
Get in touch so we can help you plan the perfect party or event!