Five Healthy Kids Party Foods Ideas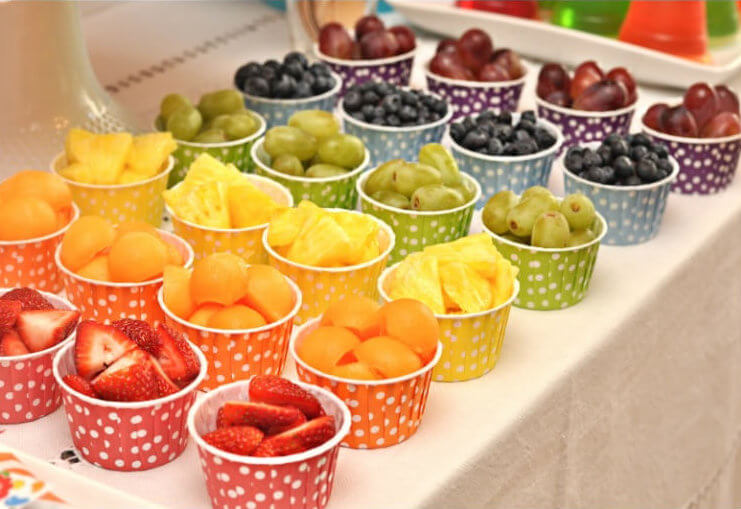 Kids love birthday celebrations, and parties are a great opportunity to celebrate with amazing food. Healthy kids party food for kids can be colourful, exciting, and healthy. These great ideas will help you avoid the junk, and make kids' parties healthier, more special, colourful, and fun – all with minimum fuss.
To make sure your party isn't full of kids avoiding the food and getting grumpy, stick to foods with well-loved ingredients and flavours. Think bananas, strawberries, apples, cucumbers, tomato, carrots, avocado and other straightforward veggies and fruits that you know your kids will love.Check out some quick and easy recipes below.
1. Hummus Dip and Crispy Bread
Time – 15 min
Ingredients
Hummus
200 g canned chickpeas
1/4 cup tahini
2 tbs olive oil
2 garlic clove (crushed)
1 lemon (small, juiced)
1/2 tsp ground cumin
Crackers
4 sheet pita bread
4 tsp olive oil
Method
Place all hummus ingredients into a tall container and using a stick blender, whizz until a smooth consistency.
Transfer to a serving dish or keep in an airtight container in the fridge for up to five days.
To make crackers: Preheat oven to 180°C (160°C fan-forced). Slice pita bread or wrap bread into triangle shapes.
Transfer to a bowl, drizzle with olive oil and lightly season with salt, making sure each triangle of bead is well covered.
Spread out onto a lined baking tray and bake for 10 minutes, then remove, turn and bake for a further 10 minutes.
Cool before serving.
Don't forget! Hummus pairs well with fresh cut veggie sticks, rice cakes, corn chips and crackers as well as spread onto toast. This recipe is nut-free, dairy-free, gluten-free, easy to make and versatile so it's pretty much always in my fridge.
2. Cinnamon Apple Chips
Time – 30 min
These healthy cinnamon apple chips are sweetened with a natural honey glaze. Slice them up and bake for a healthy snack.
Ingredients
3 apples, sliced thinly
2 tbs honey
2 tbs water
1/2 tsp ground cinnamon
Method
Heat oven to 100°C (80°C fan-forced) and line two oven trays with baking paper.
Mix honey and water into a bowl.
Toss apples with honey mixture and dust with cinnamon.
Line trays with a single layer of apples and bake for 20min.
Remove chips from oven together with the baking paper and cool on a wire rack.
3. Healthy Sausage Rolls
Time – 35 min
These yummy sausage rolls are perfect when you need to use up extra vegetables – or when you need to disguise veggies from your kids. The chicken mince gives these sausage rolls a lighter flavour, and they're packed with the fibre and protein. Best of all, their hidden goodness is undetectable!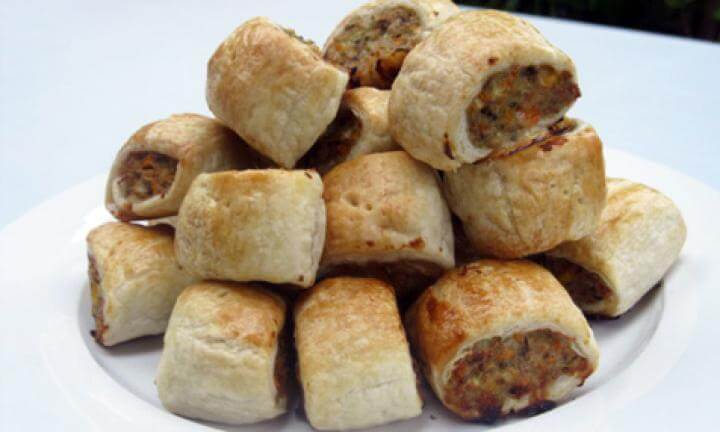 Ingredients
8 Pre-prepared frozen puff pastry sheets
1kg chicken mince
4 eggs
3 tablespoons LSA, (a mix of ground linseed, sunflower and almond kernels), optional
1 cup flaked quinoa or amaranth, optional
1/2 cup wholegrain breadcrumbs
1kg mixed vegetables of your choice, preferably fresh
1/4 cup chopped parsley
1 egg for brushing pastry, cracked and mixed lightly
Method
Pre-heat your oven on high (around 210°C).
Chop up all the vegetables as small and fine as you can.
In a large bowl, mix together all ingredients except for the puff pastry and the extra egg (which will be used to brush the pastry). Massaging all of the ingredients together can be the best way to make sure they are well combined.
After the puff pastry is defrosted, cut a sheet in half and lay in front of you as a long rectangle.
Using a tablespoon lay out the sausage roll mix in a long line at the bottom of the sheet, just remembering not to make it too thick. Keep in mind you will need to roll the puff pastry over the sausage roll mix so that there are two layers of pastry overlapping by at least 1cm.Before rolling up the mix in the pastry, brush some egg as 'glue'.  Keep the roll whole, brush with more egg on top and place on a tray with baking paper.  Keep in the fridge.
Repeat this process until all of the mix is used up.
With a sharp, thin bladed knife, cut the logs of sausage rolls into smaller pieces. Each roll makes 7 or 8 bite sized sausage rolls. Lay each piece 2cm apart on a tray lined with baking paper.  Don't try and squeeze too many on one tray as they will steam rather than bake and you won't get a golden colour from the pastry.
Bake on high for 15min, until the pastry starts to golden then turn the oven down to 180°C. Depending on the strength of your oven, you may need to move trays around from top to bottom and keep an eye on the bottom of the sausage rolls that they don't become too dark.
4. Nutella and Banana Sushi
Time – 5 min
These delicious Nutella and banana fruity snacks are so easy you can prepare and they look so cute on party platters.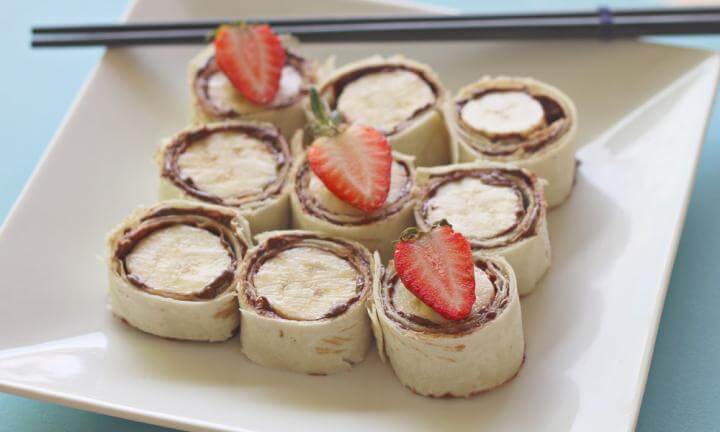 Ingredients
Banana
Nutella
Tortilla Wraps
Method
Place bread on a cutting board and spread with Nutella.

Peel banana and lay in on the edge of the tortilla.

Roll banana in tortilla.

Slice into rounds and arrange on a plate 
5. Fruit Sticks with Yoghurt Dip
Time – 10 min
Fruit sticks are super quick and super yummy.we Here give them a delicious yoghurt dip for a creamy flavour contrast.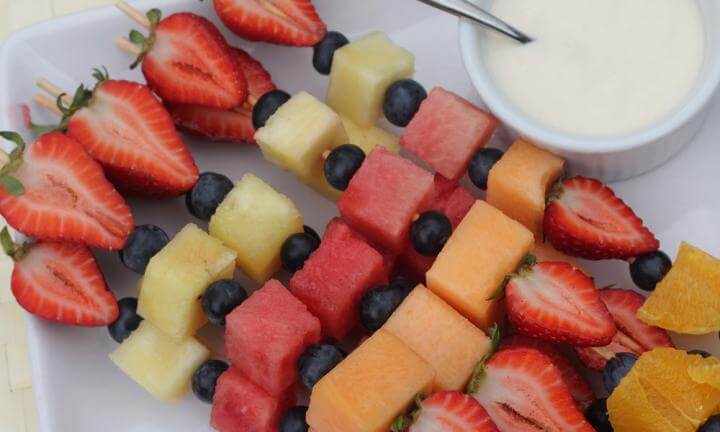 Ingredients
1 cup pineapple, peeled and diced
1/2 cup blueberries
1 punnet strawberries
1 cup grapes
2 oranges, peeled and diced
1 cup of sweet yoghurt
2 tsp honey (optional if you would like your yoghurt sweeter)
Method
Take bamboo skewers and thread the fruit on in your preferred order.
If you would like your yoghurt sweeter, mix 2 tsp of honey with yoghurt.
Pour the yoghurt into a dipping bowl.
Enjoy!
This error message is only visible to WordPress admins
Error: API requests are being delayed. New posts will not be retrieved for at least 5 minutes.
There may be an issue with the Instagram access token that you are using. Your server might also be unable to connect to Instagram at this time.
Get in touch so we can help you plan the perfect party or event!