Bumblebee Transformer Party
Enquire Now
One of the most magical moments of being a parent is when you see your child wide-eyed with wonder. Yes, it's that special moment when you know you got the choice of entertainment for their superhero birthday party spot on. There is one of our Transformer entertainers that will have your child not just overawed, but totally agog with mega wonderment and that's Bumblebee. He is awesome, amazing, a one robot extravaganza and honestly, we're under exaggerating here. Our Bumblebee Entertainer has to be seen to be believed.
Who Is Bumblebee?
Bumblebee is an Autobot from the planet Cybertron who was sent to earth on a reconnaissance mission by his leader, Optimus Prime. After crash landing, he needs to go into hiding as his entry into the atmosphere was recorded by alien trackers as well as the bots enemies from outer space. Bumblebee takes on the form of a Volkswagen Beetle, but he suffered extensive damage in the crash and is unable to function properly. Hiding in a scrapyard as a car, he's discovered by a teenage girl who decides to repair the car and make it roadworthy for her 18th birthday. She gets the biggest birthday surprise when after fiddling with the car's electronics, it turns back into its Cybertronian form. Together and with the help of friends and several other robots, they save Earth from a robotic invasion.
Our Bumblebee Entertainer
Our Bumblebee entertainer is, excuse the pun, the absolute bees knees and every inch a Transformer. Wearing a replica of Bumblebee's distinctive get-up, his entrance at your kid's superhero themed party won't be anything less than utterly mind blowing. Over his body suit of black, he's clad in bright yellow Transformer armour with a double set of wings on his back and a full face helmet with stunning laser-blue eyes. From the tips of his chunky robot boots to his imitation Autobot weaponry, he is Bumblebee the Transformer incarnate.
Bumblebee Party Entertainment
While it's common knowledge some bumble bees can sting, we've made sure our Transformers Bumblebee entertainer doesn't. He's been trained to work with children and holds the certificates to prove it plus, rather than a computerized memory core, he's got a heart of gold. The Bumblebee mission he'll be on is to make sure your child's party is as unforgettable as he possibly can and on that score, you can expect one hundred percent success. From robotic themed and traditional party games to cybertronic moves to music to wash-off Transformer tattoos, the kids will be completely bowled over by their Bumblebee entertainment.
Don't wait for an impending alien invasion, enquire now about hiring our incredible Transformers Bumblebee entertainer and make your child's party a real showstopper.
Enquire Now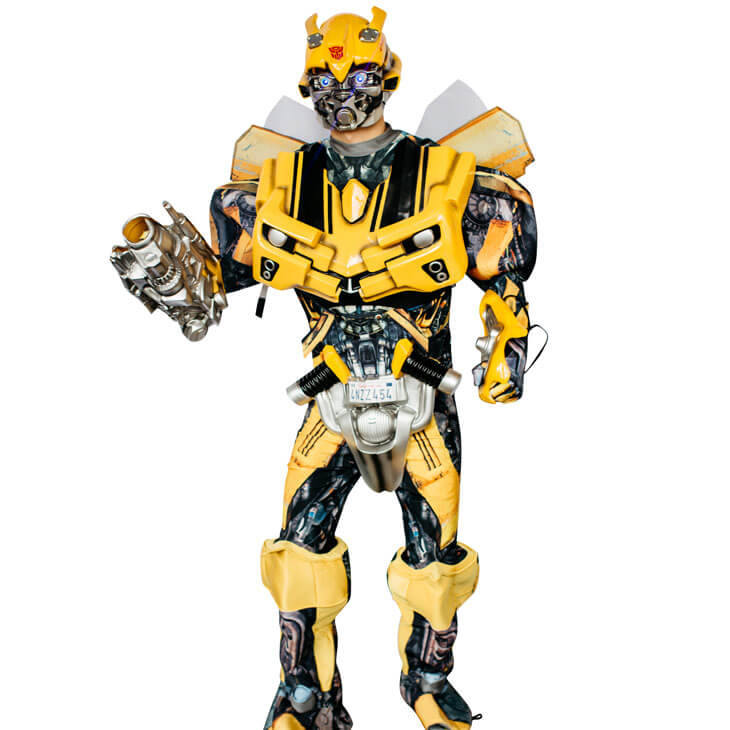 Bumblebee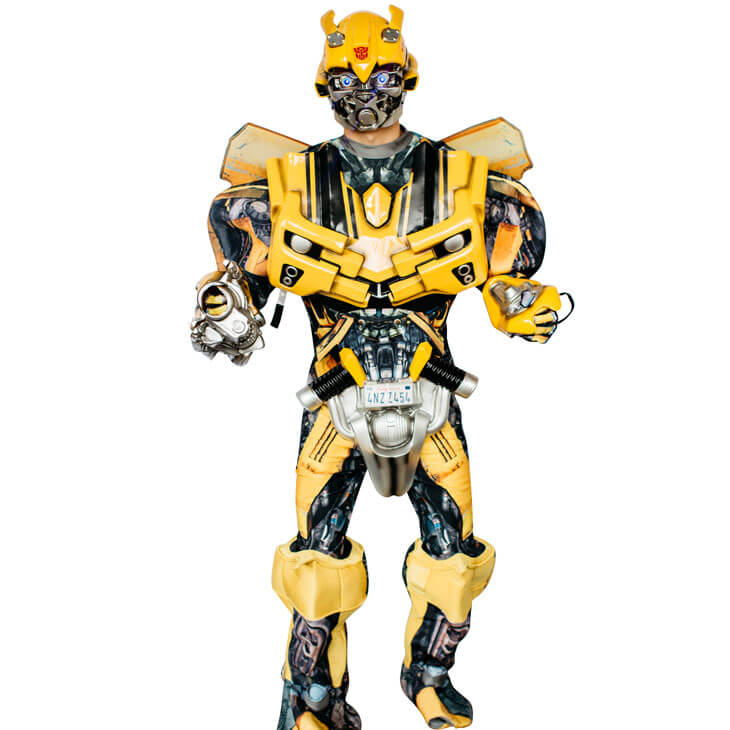 Bumblebee
We've entertained at 25,000+ parties and events since 2008
"Fly By Fun has been our go to for all Kids Entertainment at Coogee Pavilion since opening our doors in 2014. Extremely professional and reliable, nothing is ever a problem. Amazing and innovative ideas for everything we do, always at the highest of standards. We know that everything they do is all taken care of and we can sit back and go about our business. I couldn't recommend Isobel and her team more highly."
Sara Jones, Coogee Pavilion
"Fly By Fun have provided all sorts of amazing entertainment and performers for our family events around Australia. I have never been disappointed, the performers are always to a high standard of professionalism and remarkably talented. They are great with the kids and families and bring so much magic and fun to our events. I would highly recommend them to anyone looking for their types of services."
Charlotte, Starlight Children's Foundation
"Pop Up Picnic have been working with the team at Fly By Fun for years now and find their service to be such a great touch to our picnic parties, they are definitely a supplier that we trust and enjoy working with all I need to do is email a brief and they will find a package to suit in a timely fashion, no request seems to be too difficult. I would recommend their service to any of my clients."
Kelly Robinson, Pop Up Picnic
"Taylor has been working with Fly By Fun for the past five years, Isobel has been my 'go to' when sourcing children's entertainment for our annual Christmas Parties. Fly By Fun continues to deliver the very best year on year and they always provide the best talent, ideas, innovations and concepts to bring your events to life. Isobel has personally attended each of our events to ensure they run seamlessly and I really admire her experience, professionalism and Chief of Fun status! I highly recommend Fly By Fun to anyone looking for the best in children's entertainment."
Jacklyn Wickham, Taylor Construction
"Fly by Fun have been awesome company to deal with. I absolutely loved everything they did for us! The kids had a great time and were blown away with the planning and activities! Would highly recommend them to anyone planning a party or event. The feedback from the attendees was extremely positive. Fly by fun was very creative, their enthusiasm and professionalism was outstanding!"
Lana Brosque, Volkswagen
"For the last 2 years I have used Fly by Fun for our Christmas Family Day. The whole process has always been so seamless, from the booking process to the team that arrive on the day. Wrangling 120 children can be no easy task but the team manage it with such ease and make it look like a walk in the park. I couldn't recommend Fly by Fun enough, they help add that special touch to our family event!"
Melissa Snowden, Quantium
"We continue to invite Fly By Fun back to host our Centre's kids themed workshops and events as we know that we can rely on Isobel and her amazing team each time to deliver exceptional entertainment. Kids and parents always leave with fantastic reviews and smiles on their faces. I highly recommend Fly By Fun for your children's entertainment needs!"
Ailing Huang, Fashion Spree Factory Outlet Centre
Get in touch so we can help you plan the perfect party or event!