Cinderella Party Entertainer
Enquire Now
Cinderella is a fantastic storybook personality that captures the imagination of all young girls with her endearing rags to riches story. Cinderella is one of our most frequently requested entertainer characters for princess themed kids parties too. Fly by Fun's Cinderella Party Entertainer brings a whole new dimension to the word birthday and when the event is all over, the happy celebrant won't stop telling you it was the best party they've had – ever.
Who Is Cinderella?
Dominated by a wicked stepmother and three ugly stepsisters, Cinderella lives a life of drudgery cooking, cleaning and pandering to their many demanding needs in a house that is rightfully hers. When an invitation to a royal ball arrives all chaos lets loose, but even though Cinders is invited they refuse to let her go as the three sisters are jealous of her beauty. Things only start to get better for Cinderella when, as if by magic – and what else could it possibly be – her fairy godmother appears.
With a wave of her wand, the fairy godmother turns a pumpkin into a carriage, mice into horses, an old nag into a footman and Cinders' ragged clothing into a sumptuous ballgown. With her feet clad in a pair of glass slippers, Cinderella goes to the ball where she enchants the prince, but has to leave abruptly on the stroke of midnight before the spell expires. With nothing but a glass slipper – well, we're sure you already know the rest of the story, so here's some more about Fly by Fun's Cinderella entertainment.
Hire A Cinderella Entertainer
While Fly by Fun's Cinderella entertainer doesn't arrive in a crystal carriage drawn by a team of four horses, she does come to the party playing the part of a princess to perfection. She's also just as beguiling as the Cinderella from the story and will enchant the party guest with her presence. Dressed in a spectacular shimmering silk ballgown, fur-trimmed cape and silver tiara, she could have stepped right out of a  storybook illustration.
Cinderella Entertainment
Our Cinderella may look queenly, but she's not averse to getting down on her hands and knees to kiddie level to make sure they all join in with the Cinderella themed party games. She will do everything within her princess powers to make sure each child has a great time whether it's singing along with them on the karaoke, waltzing princess-style around the garden or sharing her tiara with the birthday girl. When the party is over and it's time to say goodbye, our Cinders won't leave behind a glass slipper but a wealth of happy memories the kids will cherish forever.
Enquire now about booking Fly by Fun's Cinderella entertainer for your child's next birthday celebration.
Enquire Now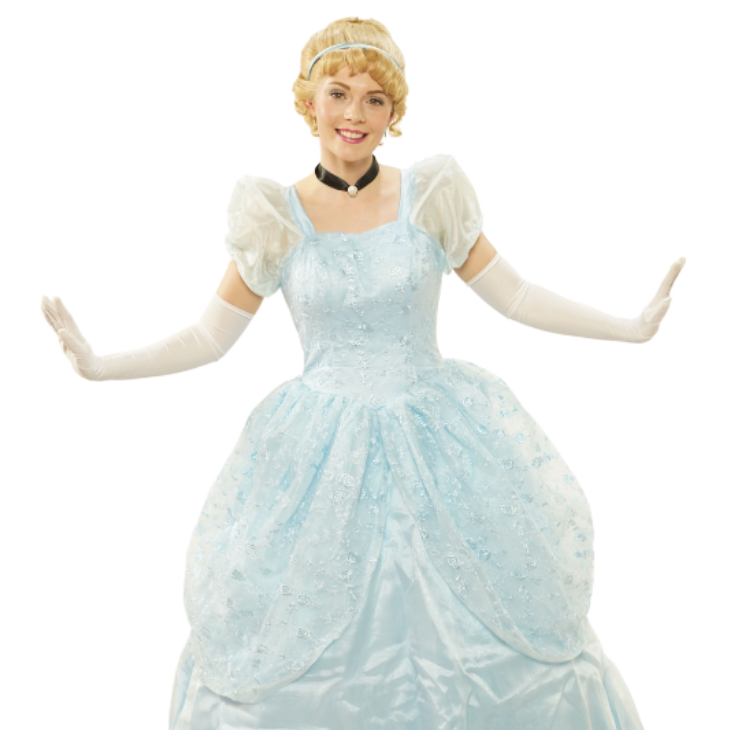 Deluxe Cinderella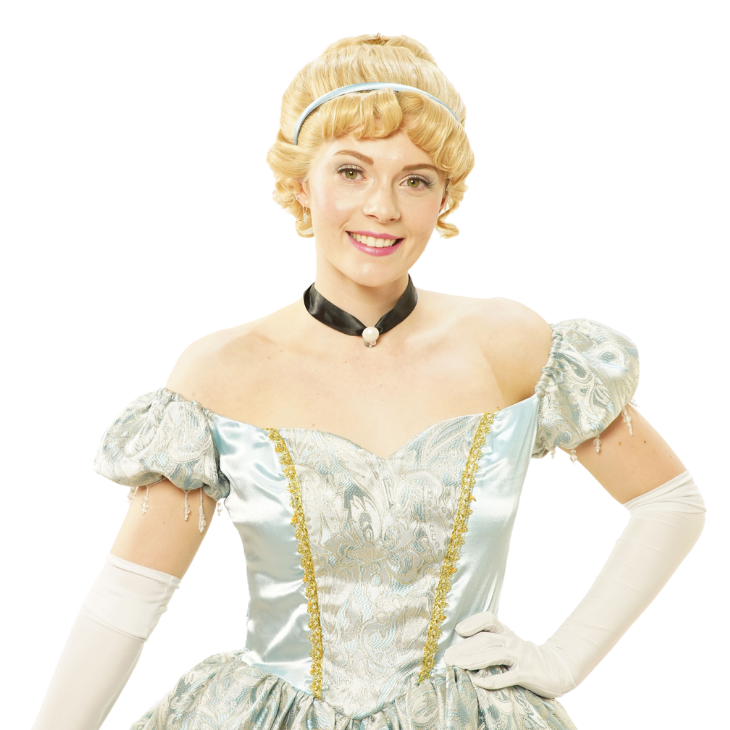 Cinderella
We've entertained at 25,000+ parties and events since 2008
"Fly By Fun has been our go to for all Kids Entertainment at Coogee Pavilion since opening our doors in 2014. Extremely professional and reliable, nothing is ever a problem. Amazing and innovative ideas for everything we do, always at the highest of standards. We know that everything they do is all taken care of and we can sit back and go about our business. I couldn't recommend Isobel and her team more highly."
Sara Jones, Coogee Pavilion
"Fly By Fun have provided all sorts of amazing entertainment and performers for our family events around Australia. I have never been disappointed, the performers are always to a high standard of professionalism and remarkably talented. They are great with the kids and families and bring so much magic and fun to our events. I would highly recommend them to anyone looking for their types of services."
Charlotte, Starlight Children's Foundation
"Pop Up Picnic have been working with the team at Fly By Fun for years now and find their service to be such a great touch to our picnic parties, they are definitely a supplier that we trust and enjoy working with all I need to do is email a brief and they will find a package to suit in a timely fashion, no request seems to be too difficult. I would recommend their service to any of my clients."
Kelly Robinson, Pop Up Picnic
"Taylor has been working with Fly By Fun for the past five years, Isobel has been my 'go to' when sourcing children's entertainment for our annual Christmas Parties. Fly By Fun continues to deliver the very best year on year and they always provide the best talent, ideas, innovations and concepts to bring your events to life. Isobel has personally attended each of our events to ensure they run seamlessly and I really admire her experience, professionalism and Chief of Fun status! I highly recommend Fly By Fun to anyone looking for the best in children's entertainment."
Jacklyn Wickham, Taylor Construction
"Fly by Fun have been awesome company to deal with. I absolutely loved everything they did for us! The kids had a great time and were blown away with the planning and activities! Would highly recommend them to anyone planning a party or event. The feedback from the attendees was extremely positive. Fly by fun was very creative, their enthusiasm and professionalism was outstanding!"
Lana Brosque, Volkswagen
"For the last 2 years I have used Fly by Fun for our Christmas Family Day. The whole process has always been so seamless, from the booking process to the team that arrive on the day. Wrangling 120 children can be no easy task but the team manage it with such ease and make it look like a walk in the park. I couldn't recommend Fly by Fun enough, they help add that special touch to our family event!"
Melissa Snowden, Quantium
"We continue to invite Fly By Fun back to host our Centre's kids themed workshops and events as we know that we can rely on Isobel and her amazing team each time to deliver exceptional entertainment. Kids and parents always leave with fantastic reviews and smiles on their faces. I highly recommend Fly By Fun for your children's entertainment needs!"
Ailing Huang, Fashion Spree Factory Outlet Centre
Get in touch so we can help you plan the perfect party or event!