Cupcake Party
Enquire Now
One way to keep kids completely entertained for an entire one and a half hours at a party or event is to keep them busy with our cupcake workshop. Knowing they get to keep and eat what they're making is also a fantastic incentive for concentrated participation. Our cupcake decorating workshop is a perfect introduction to the sweet side of the culinary arts too and who knows, may one day inspire some of the little ones to become professional bakers or chefs. Hire our cupcake decorating workshop for your kid's party, social gathering or corporate event and you may even get invited to try a cupcake or two yourself.
Cupcakes
Cupcakes are delicious individual sponge cakes with an appetising decorative topping. Modern day cupcakes have evolved from the more traditional bakes like fairy cakes, petit fours and muffins. Cupcakes can be plain sponge or flavoured with just about anything from chocolate to caramel or vanilla. What makes a cupcake special is the decoration which has become something of an art form and can be themed to suit any occasion or celebration. Personally themed cupcakes are often chosen as a gift and presented boxed to mark a special event.
Our Cupcake Party & Workshop
All of our cupcake decorating workshop leaders are excellent at organisation and maintaining group attention no matter how small or large the workshop attendance. They're all trained in food hygiene as well as being qualified kids entertainers with working with children certification and public liability insurance. Our cupcake workshop leaders bring everything with them too so you don't need to do a thing. They'll provide the cupcakes, icing, decorations, child-suitable equipment and even a chef's hat for everyone.
Cupcake Party Entertainment
To keep the fun flowing from the beginning our cupcake workshop leaders start by handing out the chef's hats and getting the kids to add their own individual design to them. When that's done and the kids have donned their hats, they have four cupcakes to decorate and an endless array of goodies to top them with. If you're having a seasonal event at a specific time of the year like Christmas, Easter or Halloween, our cupcake workshop leaders can assist the kids with themed designs to match the occasion. Our one word of advice? Take a photo of the cupcakes when they're finished to remember them by. They tend to get consumed super quick and all that's left is a few crumbs and the paper casing to prove they even existed.
Add a culinary touch to a kid's party, community or corporate event by hiring Fly by Fun's cupcake decorating workshop. It's always a sweet success.
Enquire Now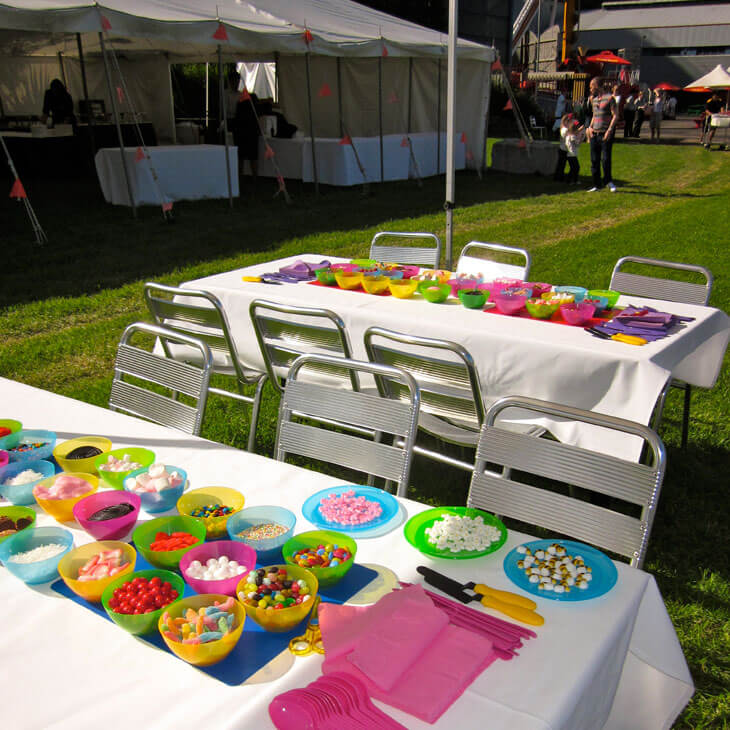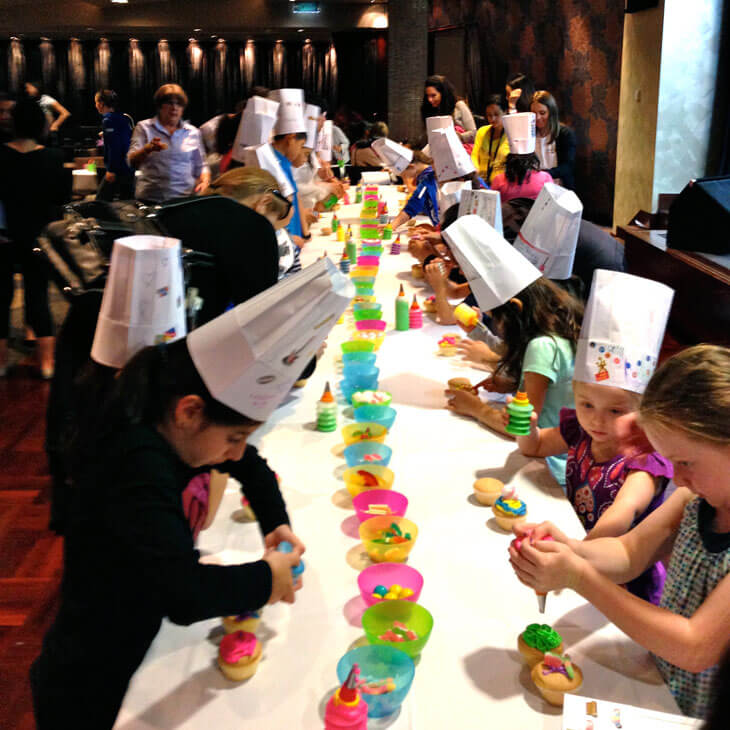 We've entertained at 25,000+ parties and events since 2008
"Fly By Fun has been our go to for all Kids Entertainment at Coogee Pavilion since opening our doors in 2014. Extremely professional and reliable, nothing is ever a problem. Amazing and innovative ideas for everything we do, always at the highest of standards. We know that everything they do is all taken care of and we can sit back and go about our business. I couldn't recommend Isobel and her team more highly."
Sara Jones, Coogee Pavilion
"Fly By Fun have provided all sorts of amazing entertainment and performers for our family events around Australia. I have never been disappointed, the performers are always to a high standard of professionalism and remarkably talented. They are great with the kids and families and bring so much magic and fun to our events. I would highly recommend them to anyone looking for their types of services."
Charlotte, Starlight Children's Foundation
"Pop Up Picnic have been working with the team at Fly By Fun for years now and find their service to be such a great touch to our picnic parties, they are definitely a supplier that we trust and enjoy working with all I need to do is email a brief and they will find a package to suit in a timely fashion, no request seems to be too difficult. I would recommend their service to any of my clients."
Kelly Robinson, Pop Up Picnic
"Taylor has been working with Fly By Fun for the past five years, Isobel has been my 'go to' when sourcing children's entertainment for our annual Christmas Parties. Fly By Fun continues to deliver the very best year on year and they always provide the best talent, ideas, innovations and concepts to bring your events to life. Isobel has personally attended each of our events to ensure they run seamlessly and I really admire her experience, professionalism and Chief of Fun status! I highly recommend Fly By Fun to anyone looking for the best in children's entertainment."
Jacklyn Wickham, Taylor Construction
"Fly by Fun have been awesome company to deal with. I absolutely loved everything they did for us! The kids had a great time and were blown away with the planning and activities! Would highly recommend them to anyone planning a party or event. The feedback from the attendees was extremely positive. Fly by fun was very creative, their enthusiasm and professionalism was outstanding!"
Lana Brosque, Volkswagen
"For the last 2 years I have used Fly by Fun for our Christmas Family Day. The whole process has always been so seamless, from the booking process to the team that arrive on the day. Wrangling 120 children can be no easy task but the team manage it with such ease and make it look like a walk in the park. I couldn't recommend Fly by Fun enough, they help add that special touch to our family event!"
Melissa Snowden, Quantium
"We continue to invite Fly By Fun back to host our Centre's kids themed workshops and events as we know that we can rely on Isobel and her amazing team each time to deliver exceptional entertainment. Kids and parents always leave with fantastic reviews and smiles on their faces. I highly recommend Fly By Fun for your children's entertainment needs!"
Ailing Huang, Fashion Spree Factory Outlet Centre
Get in touch so we can help you plan the perfect party or event!