Optimus Prime Transformer Party
Enquire Now
There's one way of making a massive impression on the young guests at your child's superhero themed birthday party and that's by hiring our Optimus Prime entertainer. Optimus is one of Fly by Fun's Transformer characters and along with his counterpart, Bumblebee, knows how to make an impact that will leave the kids totally mind-boggled. He's so realistically robotic even adults have a hard time believing he's not a Cybertronian and that there really is a human being hiding somewhere inside his costume.
Who is Optimus Prime?
If your knowledge of Transformers is lacking, don't worry, they're a complicated thing. In brief, Transformers are a race of robot aliens from the planet of Cybertron who are capable of changing form. They integrated into human society by transforming into various types of useful vehicle and only displayed their true form when earth was being invaded by their enemies. Optimus Prime is their leader and renowned for his intelligence, military skills and courage as well as for being able to rapidly convert from an articulated lorry back to his amazing Autobot form.
Our Optimus Prime Entertainer
Our Optimus Prime entertainer is a true spectacular that will leave the guests at your child's superhero themed party totally speechless when they first see him. While he won't arrive as a lorry and then transform, he will come to the party in all his robotic glory. His authentic looking costume is a marvel so be prepared to be amazed along with the kids. Over his body suit of blue, he wears enough technological gadgetry to save three worlds from a Megatron invasion let alone one and so long as you don't let onto the kids, they'll never imagine it's not for real.
Transformer Themed Entertainment
When you hire our Optimus Prime entertainer for your child's superhero themed birthday party, there's one thing you can be certain of – the Transformer entertainment will be out of this world. Apart from transforming into something that, we're sad to say, is physically impossible for him, he is human and not alien after all, he'll go to any lengths to ensure the kids at the party believe he's Optimus Prime. He'll demonstrate his Optimus military moves and get the kids joining in, show them some robotic dance moves they'll totally love imitating and be there throughout the party to make sure all the young ones are having an optimum time.
To transform your kids superhero themed party to something out of this world – enquire now about hiring our Optimus Prime entertainer.
Enquire Now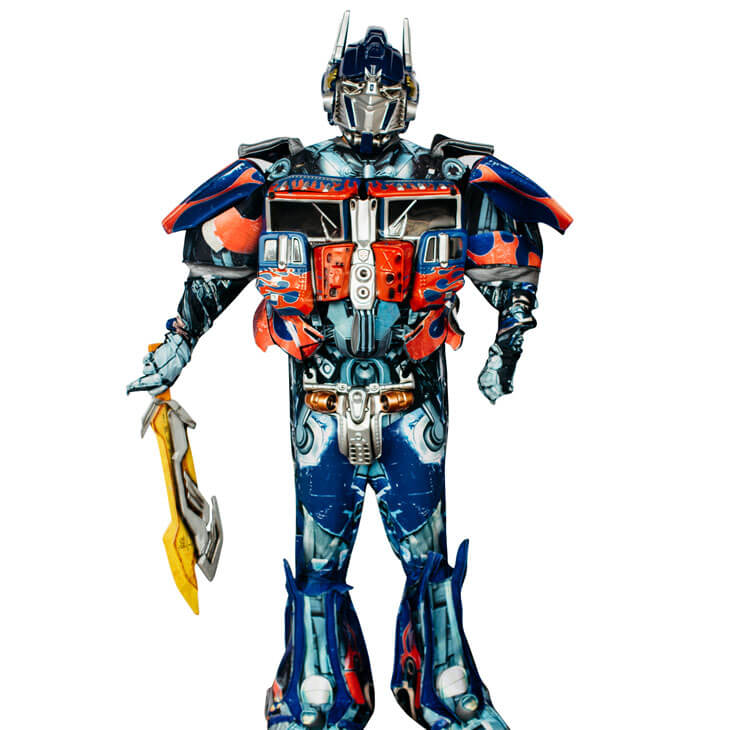 Optimus Prime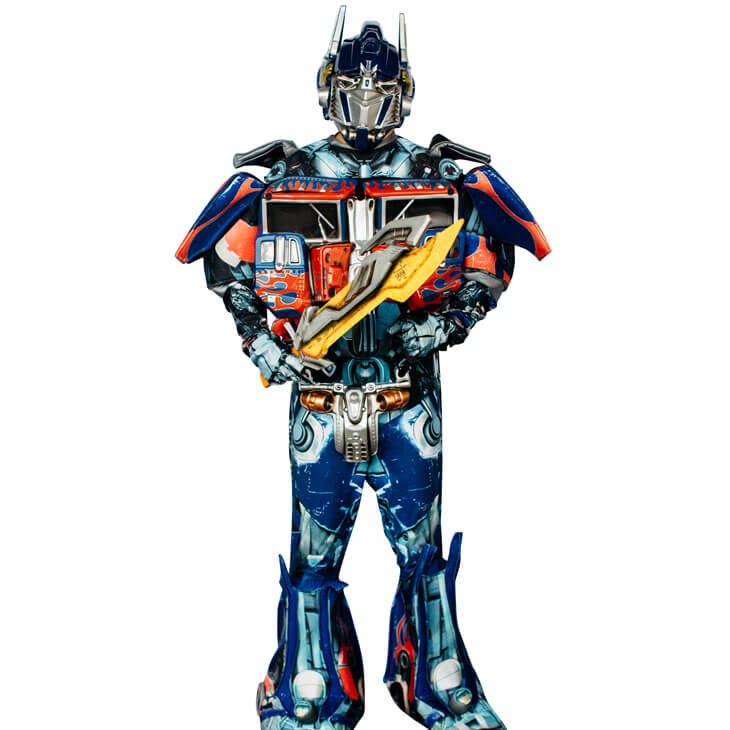 Optimus Prime
We've entertained at 25,000+ parties and events since 2008
"Fly By Fun has been our go to for all Kids Entertainment at Coogee Pavilion since opening our doors in 2014. Extremely professional and reliable, nothing is ever a problem. Amazing and innovative ideas for everything we do, always at the highest of standards. We know that everything they do is all taken care of and we can sit back and go about our business. I couldn't recommend Isobel and her team more highly."
Sara Jones, Coogee Pavilion
"Fly By Fun have provided all sorts of amazing entertainment and performers for our family events around Australia. I have never been disappointed, the performers are always to a high standard of professionalism and remarkably talented. They are great with the kids and families and bring so much magic and fun to our events. I would highly recommend them to anyone looking for their types of services."
Charlotte, Starlight Children's Foundation
"Pop Up Picnic have been working with the team at Fly By Fun for years now and find their service to be such a great touch to our picnic parties, they are definitely a supplier that we trust and enjoy working with all I need to do is email a brief and they will find a package to suit in a timely fashion, no request seems to be too difficult. I would recommend their service to any of my clients."
Kelly Robinson, Pop Up Picnic
"Taylor has been working with Fly By Fun for the past five years, Isobel has been my 'go to' when sourcing children's entertainment for our annual Christmas Parties. Fly By Fun continues to deliver the very best year on year and they always provide the best talent, ideas, innovations and concepts to bring your events to life. Isobel has personally attended each of our events to ensure they run seamlessly and I really admire her experience, professionalism and Chief of Fun status! I highly recommend Fly By Fun to anyone looking for the best in children's entertainment."
Jacklyn Wickham, Taylor Construction
"Fly by Fun have been awesome company to deal with. I absolutely loved everything they did for us! The kids had a great time and were blown away with the planning and activities! Would highly recommend them to anyone planning a party or event. The feedback from the attendees was extremely positive. Fly by fun was very creative, their enthusiasm and professionalism was outstanding!"
Lana Brosque, Volkswagen
"For the last 2 years I have used Fly by Fun for our Christmas Family Day. The whole process has always been so seamless, from the booking process to the team that arrive on the day. Wrangling 120 children can be no easy task but the team manage it with such ease and make it look like a walk in the park. I couldn't recommend Fly by Fun enough, they help add that special touch to our family event!"
Melissa Snowden, Quantium
"We continue to invite Fly By Fun back to host our Centre's kids themed workshops and events as we know that we can rely on Isobel and her amazing team each time to deliver exceptional entertainment. Kids and parents always leave with fantastic reviews and smiles on their faces. I highly recommend Fly By Fun for your children's entertainment needs!"
Ailing Huang, Fashion Spree Factory Outlet Centre
Get in touch so we can help you plan the perfect party or event!