Slime Party
Super Fun Slime Party for Kids
Our SUPER fun Slime Party is full of sciencey fun and excitement, as our Mad Scientist takes the children on a fun and messy adventure full of Slime! The children all get to participate in some wonderful science experiments, fun party games and even make up to two of their very own slimes to take home in their own special containers. All the children will also get to choose from a range of glitters & colours to add to their slime creations!
Entertainment
Our Slime Party entertainment includes a range of interactive science fun, including making fluffy or glitter slime and your choice of three to five extra science experiments including coke explosions, volcanoes, giant bubbles, instant snow, crazy ooze, flubber, magic bubbles, lava lamps and more depending on which package you choose. Our Scientists will bring along everything needed for the entertainment including the ingredients for the science experiments, music and lab coats for all the children. We also have party invitations we can post to you.
Entertainers
Our Scientists have been handpicked and are well presented as our costumes are of the highest quality. We are well trained and experienced, have fun and outgoing personalities and are punctual and reliable. All our Scientists have backgrounds in acting and drama, valid Working With Children Checks and Public Liability insurance so you have peace of mind your children are in the best possible hands.
Enquire Now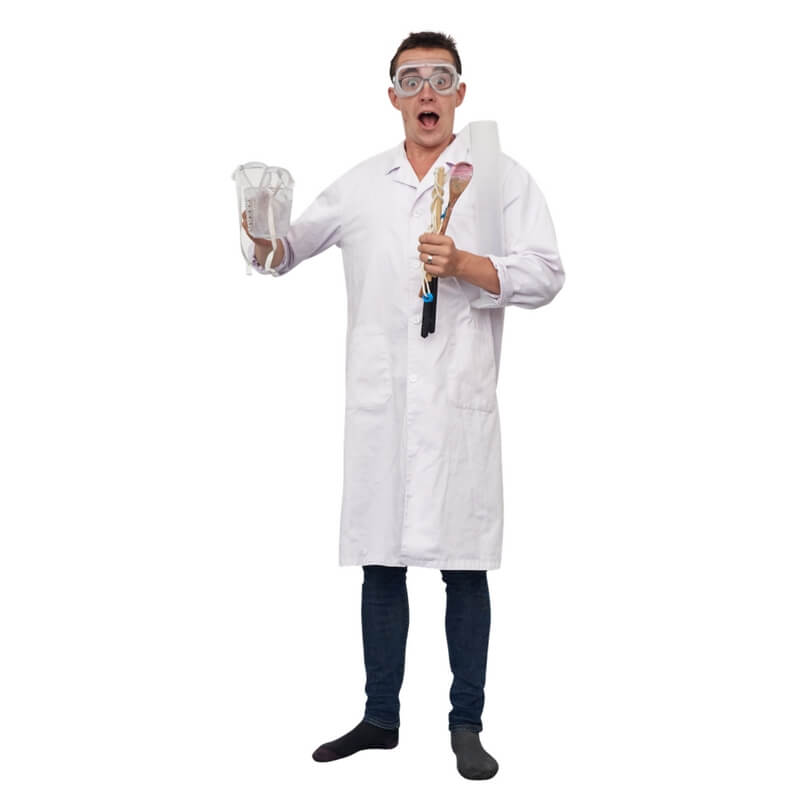 Scientist
We've entertained at 25,000+ parties and events since 2008
"Fly By Fun has been our go to for all Kids Entertainment at Coogee Pavilion since opening our doors in 2014. Extremely professional and reliable, nothing is ever a problem. Amazing and innovative ideas for everything we do, always at the highest of standards. We know that everything they do is all taken care of and we can sit back and go about our business. We absolutely love seeing the super happy faces on the children and their squeals of delight when Fly By Fun are here. I have also used Fly by Fun personally and couldn't recommend them more highly. Love Isobel and all her team! Look no further for all your super fun entertainment needs!"
Sara Jones, Coogee Pavilion
"Fly By Fun have provided all sorts of amazing entertainment and performers for our family events around Australia. I have never been disappointed, the performers are always to a high standard of professionalism and remarkably talented. They are great with the kids and families and bring so much magic and fun to our events. I would highly recommend them to anyone looking for their types of services."
Charlotte, Starlight Children's Foundation
"Pop Up Picnic have been working with the team at Fly By Fun for years now and find their service to be such a great touch to our picnic parties, they are definitely a supplier that we trust and enjoy working with all I need to do is email a brief and they will find a package to suit in a timely fashion, no request seems to be too difficult. I would recommend their service to any of my clients."
Kelly Robinson, Pop Up Picnic
"Taylor has been working with Fly By Fun for the past five years, Isobel has been my 'go to' when sourcing children's entertainment for our annual Christmas Parties. Fly By Fun continues to deliver the very best year on year and they always provide the best talent, ideas, innovations and concepts to bring your events to life. Fly By Fun offers such a broad scope of activities that really cater for all and most importantly bring families and the broader Taylor team together. Isobel has personally attended each of our events to ensure they run seamlessly and I really admire her experience, professionalism and Chief of Fun status! I highly recommend Fly By Fun to anyone looking for the best in children's entertainment."
Jacklyn Wickham, Taylor Construction
"Fly by Fun have been awesome company to deal with. I absolutely loved everything they did for us! The kids had a great time and were blown away with the planning and activities! Would highly recommend them to anyone planning a party or event. The feedback from the attendees was extremely positive. Fly by fun was very creative, their enthusiasm and professionalism was outstanding!"
Lana Brosque, Volkswagen
"For the last 2 years I have used Fly by Fun for our Christmas Family Day. The whole process has always been so seamless, from the booking process to the team that arrive on the day. Wrangling 120 children can be no easy task but the team manage it with such ease and make it look like a walk in the park. I couldn't recommend Fly by Fun enough, they help add that special touch to our family event!"
Melissa Snowden, Quantium
"We continue to invite Fly By Fun back to host our Centre's kids themed workshops and events as we know that we can rely on Isobel and her amazing team each time to deliver exceptional entertainment. Kids and parents always leave with fantastic reviews and smiles on their faces. I highly recommend Fly By Fun for your children's entertainment needs!"
Ailing Huang, Fashion Spree Factory Outlet Centre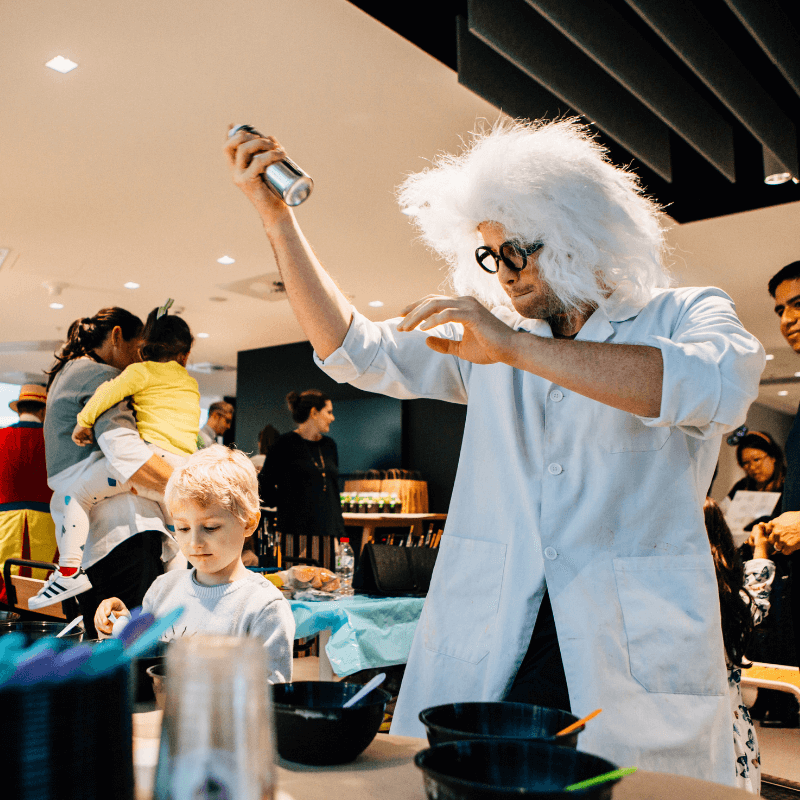 5 Reasons Why You Should Throw A Science Party For Your Kids
One of our most popular party themes, here are the reasons why Our Science Parties have been kids' most favourite parties so far! We don't want you and your kids to miss the fun that's why we've listed 5 Reasons Why You Should Throw Science Party For Your Kids. Hopefully, this blog gives you some […]
Read More
Want to become a Fly By Fun Franchise Owner?
We're looking for like-minded people to join us in creating happy memories for more children, families and corporate companies around Australia everyday. If you're looking for a lifestyle business opportunity that has ongoing training, business mentoring and customer sales and service support then click below to learn more!
Get in touch so we can help you plan the perfect party or event!