Spiderman Party Entertainer
Enquire Now
Having a themed party for a child's birthday is a great way of turning their big day into something extra special. One party theme that crosses the genders and is loved by both boys and girls alike is superheroes. There is an endless list of superheroes that are all amazing in their own individual way, but there's one in particular that has captivated the imagination of young and old for generations and that's a Spiderman Party Entertainer. Seeing an actual Spiderman turn up at their superhero themed birthday party is a jaw-dropping experience for kids that they'll never forget and better than any birthday surprise they could ever have imagined wishing for.
Who Is Spiderman?
Spiderman is the alter ego of newspaper reporter, Peter Parker. After being bitten by a spider, he develops similar characteristics to the eight-legged arachnid that gives him the ability to spin webs and climb walls. Spiderman's amazing antics have gone from 1960s comic book pages to being a big screen cinema favourite full of exciting action as he saves lives and fights off the bad guys. As a superhero, he really is a cut above the rest. The Fly by Fun Spiderman entertainer may not have the same incredible physical spider-like qualities, and we don't ask him to swing from skyscraper to skyscraper on threads of web, but he does ensure that a Spiderman superhero themed kids party is fun-packed from the word go.
Hiring A Spiderman Party Entertainer For A Superhero Themed Kids Party
Hire a Spiderman Party Entertainer from Fly by Fun and the kids will be thrilled when he bounds in wearing an authentic Spiderman costume. From his web-patterned head to his toes, he looks just like the real deal and knows exactly how to replicate those fantastic Spiderman moves too. You can choose from our 1hr, 1.5hrs and 2hrs entertainment packages depending on how many guests you will be having at the party. You can also book one of Spiderman's friends to entertain at the party too such as Ironman, Hulk, Captain America or Thor. 
Parents will be pleased to know, all of our superheroes are vetted by Fly by Fun before they join us and all have validated certification for working with children. There are no bad guys on our team only superheroes.
Entertainment At Our Spiderman Themed Party
A Spiderman themed birthday party is ideal for kids with lots of energy to burn off. They'll be busy learning how to fend off imaginary villains, and practising their own Spidey moves as well as taking part in more traditional party games such as musical statues, hide and seek, tattoos, balloon twisting, scavenger hunts, pass the parcel, magic tricks and more depending on which package you choose. After their superhero efforts, all the guests will be delighted with their wash-off, souvenir Spiderman tattoo and then can join in all together singing Happy Birthday and cutting the cake.
You won't need to worry about a thing when it comes to the entertainment, Spiderman will bring everything needed, including themed music, lollipops and prizes for all the children. We can also create themed digital Spiderman invitations that you can send to all your guests, just ask us about this upon booking in.
Enquire now about hiring our incredible Spiderman Party Entertainer and give your child an action-packed superhero themed birthday party that will have them climbing the walls with excitement.
Enquire Now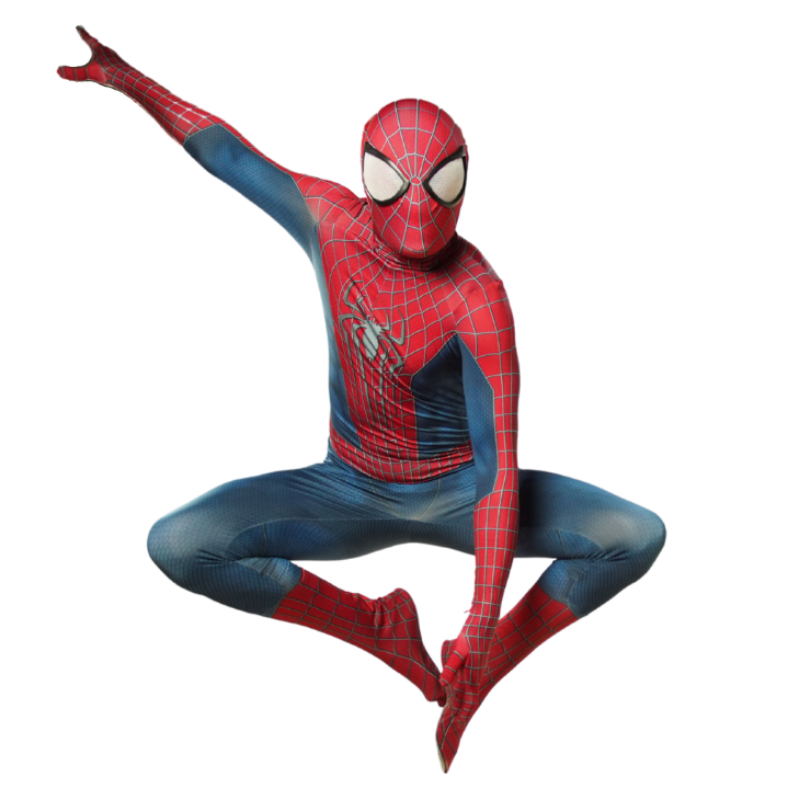 Deluxe Spiderman
We've entertained at 25,000+ parties and events since 2008
"Fly By Fun has been our go to for all Kids Entertainment at Coogee Pavilion since opening our doors in 2014. Extremely professional and reliable, nothing is ever a problem. Amazing and innovative ideas for everything we do, always at the highest of standards. We know that everything they do is all taken care of and we can sit back and go about our business. I couldn't recommend Isobel and her team more highly."
Sara Jones, Coogee Pavilion
"Fly By Fun have provided all sorts of amazing entertainment and performers for our family events around Australia. I have never been disappointed, the performers are always to a high standard of professionalism and remarkably talented. They are great with the kids and families and bring so much magic and fun to our events. I would highly recommend them to anyone looking for their types of services."
Charlotte, Starlight Children's Foundation
"Pop Up Picnic have been working with the team at Fly By Fun for years now and find their service to be such a great touch to our picnic parties, they are definitely a supplier that we trust and enjoy working with all I need to do is email a brief and they will find a package to suit in a timely fashion, no request seems to be too difficult. I would recommend their service to any of my clients."
Kelly Robinson, Pop Up Picnic
"Taylor has been working with Fly By Fun for the past five years, Isobel has been my 'go to' when sourcing children's entertainment for our annual Christmas Parties. Fly By Fun continues to deliver the very best year on year and they always provide the best talent, ideas, innovations and concepts to bring your events to life. Isobel has personally attended each of our events to ensure they run seamlessly and I really admire her experience, professionalism and Chief of Fun status! I highly recommend Fly By Fun to anyone looking for the best in children's entertainment."
Jacklyn Wickham, Taylor Construction
"Fly by Fun have been awesome company to deal with. I absolutely loved everything they did for us! The kids had a great time and were blown away with the planning and activities! Would highly recommend them to anyone planning a party or event. The feedback from the attendees was extremely positive. Fly by fun was very creative, their enthusiasm and professionalism was outstanding!"
Lana Brosque, Volkswagen
"For the last 2 years I have used Fly by Fun for our Christmas Family Day. The whole process has always been so seamless, from the booking process to the team that arrive on the day. Wrangling 120 children can be no easy task but the team manage it with such ease and make it look like a walk in the park. I couldn't recommend Fly by Fun enough, they help add that special touch to our family event!"
Melissa Snowden, Quantium
"We continue to invite Fly By Fun back to host our Centre's kids themed workshops and events as we know that we can rely on Isobel and her amazing team each time to deliver exceptional entertainment. Kids and parents always leave with fantastic reviews and smiles on their faces. I highly recommend Fly By Fun for your children's entertainment needs!"
Ailing Huang, Fashion Spree Factory Outlet Centre
Get in touch so we can help you plan the perfect party or event!