Stress Free Eight Year Old Birthday Party Ideas!
But the title actually means low-stress for parents. Kids at this age like to run around and express themselves, so sometimes, activities can do wonders for them until they wind down. During this stage, you can expect that a refreshments station set up in a corner can do wonders for the guests whether young or old alike.
Scavenger Hunt Birthday
Who doesn't enjoy a scavenger hunt? You will need a list of things to look for in the birthday venue. You can also give your guests a time limit to work with. Depending on the number of guests you have, divide them into different coloured teams, of four to five kids each. You can give out clues on the list like "something for your feet" or "a vessel for liquid", these are what makes an interesting list and your little guests can run around validating all their guesses. Don't forget to give them a clock so that they are right on time. It's one of those no sweat kids party games that let them stretch their imagination.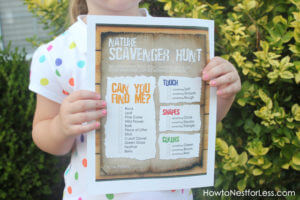 Marbles

 

Birthday Theme
It's an oldie but goodie theme where marbles are the centre of attention. Here, anything round goes.  There are actually some party decorations that are dual purpose. You can conduct a Guess and Win game by pouring in different types of marbles into different, shaped jars and ask the kids to guess how many are inside. You can count how many are actually inside right in front of the children and give a prize to the closest guess there is. Your balloons can also look like marbles if you use the tiny, matte ones.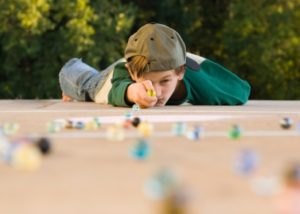 Mad Hatter Birthday Party
It's a simple theme and yet anybody can be a part of it. Imagine different guests arriving in different hat designs. It's something that almost anybody has, and it's inexpensive. Print a silhouette of an over-the top hat design for the invitations, and you can ask kids to talk about their choice of hat and a few questions like "is it something they see themselves doing in the near future?" just like show and tell. You can also hire your very own Mad Hatter from Fly By Fun, Australia's leading company when it comes to entertainers for different events. Now that's one kids party entertainment idea off your list.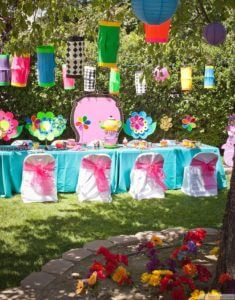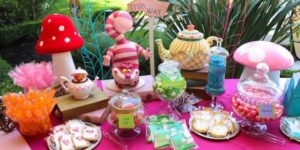 The Amazing Race Birthday
All you have to do is establish different stations where you can drop clues for your guests. In each station, you can give them riddles to solve, ranging from easy to the more difficult. In each station, you can leave a clue so that at the end of the "race" your teams can put together a message or piece them all together for a bigger puzzle. There are free printables all over Pinterest where you can pick up ideas and retrofit them for the birthday party you are organising. As for party food ideas, you can go around the world.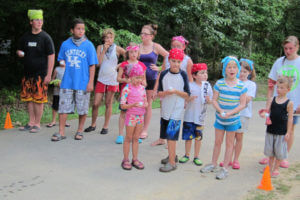 Hip Hop Dance Party!
At eight years old, your child will have discovered the amazing world of modern dance. It's a kinaesthetic activity that combines music and moves, not to mention it can be a skill to impress an audience. A Hip Hop Dance Party are perfect for both boys and girls who love modern day music. A professional can teach children simple steps and a short routine to a customised playlist, bonus points if it's the celebrant's favourite tracks to make it extra special. All the dancers at Fly By Fun are experienced and well-trained, not to mention reliable with background in acting, dance and also drama.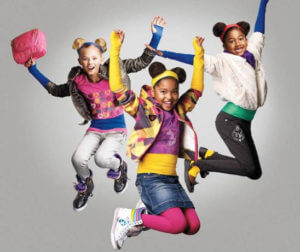 For kids party entertainment, you don't have to stress. Parents also deserve to unwind on such special days such as their kids birthdays. You can always give a trusted company a call, and remember to enjoy. A successful event is all about preparing ahead of time, and of course, even parents who have organised parties also have to indulge.
This error message is only visible to WordPress admins
Error: API requests are being delayed. New posts will not be retrieved for at least 5 minutes.
There may be an issue with the Instagram access token that you are using. Your server might also be unable to connect to Instagram at this time.
Get in touch so we can help you plan the perfect party or event!