Unique Ten Year Old Birthday Party Ideas
As they say, a double figure should be celebrated with a bang. That's ten toes, ten fingers. A decade. If
you think about all the memories that can fit into one decade, it has to be highlighted by your child's
favourites of the last decade, this is what makes up bits and pieces of your child. Here are unique ten
year old birthday party ideas from the last decade that can make you ten year old birthday party
celebration one of a kind.
1. Design Your Own Doughnut party
Who doesn't enjoy pastries? Doughnuts have a guaranteed soft spot for both young and old and a sure
way to get your guests excited is to hold a DIY doughnut party. You can set up shop with plain
doughnuts and prepare a few glazes and sprinkles in a corner. For drinks there can be lattes, coffee for
the adults and for a bonus trick, you can demonstrate how an espresso bomb can be made. On a more
serious note, you can serve chocolate drinks to your young guests and avoid serving them caffeine at all
costs! Also displaying a healthy salad bar is a good option especially if everything is fresh.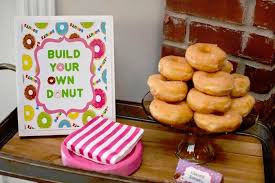 Sourcehttp://karaspartyideas.com/2016/03/donut-themed-birthday-party.html
2. Cactus and Succulents Party
Have your guests discover what it means to create their own terrariums and care for their own mini
rainforest with adorable cacti and succulents. It's a rage right now and it's also a great way for your
guests to appreciate caring for little plants. It's a great summer birthday party idea that you can do in
your own backyard or if you have a greenhouse, it would be a great venue for repotting sessions. You
can have a bunch of cacti and succulents ready for repotting and you can hold a mini contest, the most
creative arrangement wins a prize! Souvenirs can include cacti or succulent shaped keychains. You can
also offer door prizes for your guests, especially those who arrived in cactus/ succulent themed outfits
like all green or spiky accessories.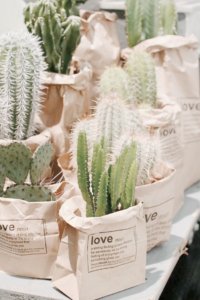 Source: https://www.baldefamille.com
3. Minute to Win It Party
Fly By Fun has amazing performers who can also serve as hosts for the minute to win it format. The
Minute to Win It Party theme is a great avenue for kids party games, all games are timed to just a
minute and it can be anything from stacking ping pong balls in a minute to gathering all yellow M&Ms in
a tiny plate amidst a sack of peanuts. You are allowed creativity and if you need help, you can always
seek the assistance of Australia's well-loved entertainment company, Fly By Fun. It's a no sweat kids
party entertainment theme that's effortless and motivational for kids at this age.
Source: http://inviteanddelight.blogspot.com.au
4. Luau Summer Party
Bring out those grass skirts, flamingos and pineapples! This is great for one of the summer birthday
party ideas. A summer luau party is pretty doable, and fun especially for young girls who are sure to
enjoy colourful grass skirts, floral crowns and flower leis. It's one of the girls party ideas that's well-
loved and can be enjoyed whether by the pool or beachside. The party food is a no brainer for this one,
and the music is readily available from Hawaiian tracks you can just download or borrow from any beach
loving family member.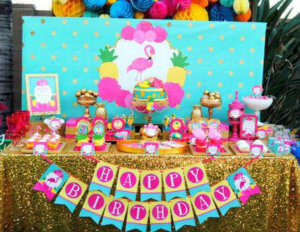 Source: http://krownkreationscelebrations.com
5. Mardi Gras Party
Now if you have ample budget for your party, the mardi gras theme is all about magic and opulence. The
mardi gras theme is an overload on colour and jazz music. One best feature is the masquerade ball and
glitzy kids party decorations. You can start the mood by creating festive invitations and allow your
guests upon their arrival to decorate and design their own masks before they enter the ball. Be ready to
have a blast!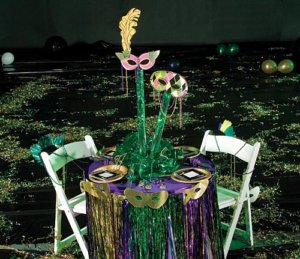 Source: http://www.great-birthday-party-ideas.com
Celebrating your child's tenth birthday is also a milestone in your ten years of parenting. It's also a time
to take a deep breath and indulge as you face the pre-teen years. Of course, it's all part of growing up.
You can always look forward to that after your decade party, but for now, you have party planning
duties to do and luckily, it's no sweat with party performers on hand and with a few creative tips, your
party will surely sail smoothly.
This error message is only visible to WordPress admins
Error: API requests are being delayed. New posts will not be retrieved for at least 5 minutes.
There may be an issue with the Instagram access token that you are using. Your server might also be unable to connect to Instagram at this time.
Get in touch so we can help you plan the perfect party or event!